"Holy s**** that's good" after she tried our wagyu picanha for the first time.

Fast forward to 3:30 to see the cutting and cooking.

Method: Pan-Sear or Grill

Use the same cooking methods as USDA prime and aim for medium-rare. The picanha can be cooked as a full roast alternative to prime rib, or as steaks of any thickness.

Trimming & Cutting Instructions
• leave the thick top fat cap on
• trim the thin lay of silver skin off underneath (helps to cut this off after you cut your steaks)
• Cut the steaks to your desired thickness with the grain (with the pointy end facing north, cut your steaks horizontally).
• Watch the youtube video for reference.

THAWING, PREP, & COOKING TIPS
Thawing
• If your picanha is frozen, safely thaw the whole picanha in the refrigerator for 3-4 days before cooking.
• Allow the steaks to come up to room temperature right before cooking.
• Follow safe handling instructions when preparing food.

Seasoning
• Add a light coat of salt before cooking.
• Optional: base with butter and garlic.
• Best: if you have A5 wagyu, brush the leftover fat in the pan after cooking over your other steaks for a velvety mouthfeel.

Ideal Serving Temperature
• Medium | 140°-150° after resting or
• Medium-Well | 150°-155° after resting

Tips
• Steaks will continue to cook as you take them off the heat.
• You can always re-cook the steak in the pan if it's too rare after cutting.
• Rest your steaks for 10-15 minutes after cooking, so the juices don't flow out while cutting.

Learn how to tell if a steak is done cooking with the finger test in the video above.

Although not required, the reverse-sear method is recommended for thick steaks over 1.5 inches. This simple technique takes extra time, but is the best way to cook a steak by reducing moisture loss.

Traditional Method
1. sear with high heat first
2. finish with lower heat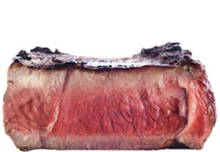 moisture loss & overcooked edges

Reverse-Sear Method
1. low and slow heat over time
2. sear at the end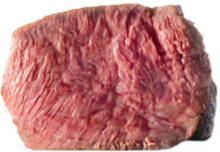 juiciest steak & even cooking

Reverse-sear is a simple 2-part cooking technique.

STEP 1
Slow cook at a low temperature until the steak reaches your desired pre-sear temperature (usually a few degrees below your final cooking temperature).
how: sous-vide, smoking, convention mode in your home oven, air-fryer, grill, and any form of low heat.

STEP 2
Pat down the exterior completely dry with paper towels. Sear all sides with high heat to form an even and brown crust.
how: cast iron with a smoking hot pan, direct fire over a charcoal grill, and any form of direct heat.

There are many ways you can reverse-sear. Sous-vide is the easiest because you can keep the steak in the water bath for an extended period of time while your guests come.

If you don't use a sous-vide, you will need a meat thermometer.

REVERSE-SEAR WITH SOUS VIDE
REVERSE-SEAR IN YOUR OVEN
REVERSE-SEAR IN YOUR SMOKER