AUSTRALIAN | PUREBRED WAGYU HYBRID
Our reserve striploin (NY) steak may be the crossed Australian wagyu steaks you'll ever get your hands on.

Rare F4 genetics offers a balanced buttery texture and mouthfeel for those looking for a leaner wagyu. The cattle gaze on lush pasture and follow Japanese-style feeding techniques for spectacular umami beef flavor.

balance between USDA prime & melt-in-your-mouth A5 Japanese

quick pan-fry or grill. best medium rare

2 MARBLING GRADES & 2 CUTS

(bms 6/7 or 8/9) ribeye and striploin steaks

• Includes: 1 steak, approximately 12oz

• Cut: Striploin (new york)

• Thickness: Averages 1"

• Type: Purebred, F4 Wagyu Cross (Fullblood x F3)

• BMS: 6/7 (extra fatty)

• Flavor: Mild/medium beefy flavor

• Origin: Australia

• Ships frozen with ice packs. Thawing is natural during transit.

WHAT IS RESERVE SELECTION?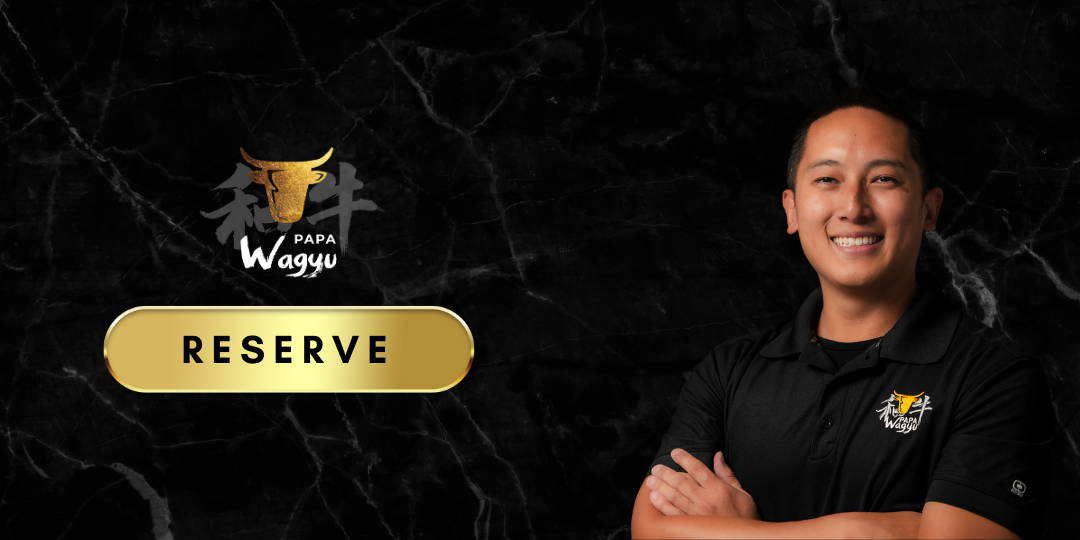 AUSTRLAIAN PUREBRED F4 HYBRID
Papa Wagyu Reserve is a private label sourced from the best wagyu farms worldwide. Like wine, each brand/region will be distinct from the others.

All of the cattle from this program are from the rare F4, also known as Purebred Wagyu (93.75%+ Fullblood Wagyu Genetics from Japan). The cattle are raised on pasture in Australia and then grain-fed for 400+ days.

The crossbreeding of Wagyu and Angus cattle results in a meat product that embodies the perfect synergy between marbling, flavor, tenderness, and versatility. Whether enjoyed in a fine-dining setting or a casual backyard barbecue, this balanced blend caters to diverse palates and preferences, making it a popular choice among beef connoisseurs and everyday food enthusiasts alike.

fullblood vs crossed wagyu
FULLBLOOD VS CROSSED WAGYU
Wagyu translates to "Japanese Cow." Most Wagyu we consume is from the Japanese Black (Kuroge Washu) breed. By law, wagyu in Japan are Fullblood (100% wagyu genetics) with no cross-breeding.

Fullblood Wagyu are genetically unique to have the highest intramuscular fat (marbling) and have a low melting point of ~ 78°F, resulting in the famous melt-in-your-mouth experience.

Japan used to export live Fullblood Wagyu to the world. In 1997, though, Japan declared the Wagyu breed a living national treasure and banned exports. Today, there is a small amount of Fullblood Wagyu outside of Japan.

CROSSED WAGYU GENETICS
- higher F numbers = more wagyu DNA
- most are F1 and F4 are the rarest
Farmers achieve genetic variations by crossing Wagyu with Angus. Higher percentages of Wagyu genetics lead to higher F numbers and more Wagyu characteristics in the beef. Most Wagyu in the U.S. & Australia are F1 Crosses (50% wagyu).

WAGYU DIET INFLUENCES BEEF FLAVOR
- Grain Diet: mild beef flavor
- Grain & Grass Diet: medium beefiness
- Grass Diet: strong beef flavor
Many Australian Wagyu farms allow their cattle to graze on grass, creating a deeper beef flavor profile similar to dry-aged meats. Most American Wagyu farms follow Japanese-style grain feeding, producing a milder flavor profile.

MARBLING & TEXTURES
Crossing wagyu is a hard science, and there's a wide variance in quality from different farms. Marble scores range from USDA choice to slightly leaner than A5. We scour the world to find the best quality of wagyu in each category.

Generally, Australian Wagyu programs typically marble out better than American Wagyu, but some exceptions exist. Beef marble scores (BMS) measure the amount of intramuscular fat. Higher BMS scores are fattier, and lower BMS scores are more balanced in steak texture. The highest BMS scores will be slightly leaner than the melt-in-your-mouth A5 Japanese Wagyu.

WAGYU BRANDS
Like wine, each brand/region of Wagyu will be distinct from the others. Farms will differ in genetics, animal husbandry, environment, and diet. Learn the differences by tasting wagyu from different farms across the world.

Method: Pan-Sear or Grill

Wagyu is easier to cook than USDA Prime because prime steaks dry out past medium rare. Wagyu fat naturally cooks the steak in its fat and keeps the steak buttery. The higher the marbling score, the easier it is to cook since the steak will be tender at more doneness levels. Wagyu fat naturally cooks the steak in its fat and keeps the steak buttery.

Use the same cooking methods as USDA prime and aim for medium-rare.

THAWING, PREP, & COOKING TIPS
Prep
• Safely thaw your frozen steaks in the refrigerator 24 hours before cooking.
• Allow the steaks to come up to room temperature right before cooking.
• Follow safe handling instructions when preparing food.

Seasoning
• Add a light coat of salt before cooking.
• Optional: base with butter and garlic.
• Best: if you have A5 wagyu, brush the leftover fat in the pan after cooking over your other steaks for a velvety mouthfeel.

Ideal Serving Temperature
• Medium-rare | 130°-135° after resting

Tips
• Steaks will continue to cook as you take them off the heat.
• You can always re-cook the steak in the pan if it's too rare after cutting.
• Rest your steaks for 10-15 minutes after cooking, so the juices don't flow out while cutting.

Learn how to tell if a steak is done cooking with the finger test in the video above.