Available for delivery within the Bay Area only (can't be shipped overnight)

Arguably the best wagyu tomahawk on the market with an unbelievable buttery texture and mouthfeel.

The cattle gaze on lush pasture and follow Japanese-style feeding techniques for spectacular umami beef flavor. Served in the finest steakhouses across the world.

slightly leaner than melt-in-your-mouth A5 Japanese

use the same methods as non-wagyu tomahawks. best medium rare

• Includes: 1 tomahawk steak

• Cut: Tomahawk

• Thickness: Varies

• Type: F4, F3, F2, and F1 mixture

• BMS: 8+ (extra fatty)

• Flavor: Mild/medium beefy flavor

• Origin: Australia

• Only deliverable within the Bay Area. Overnight shipping not available.

WHAT IS RESERVE SELECTION?
Our reserve wagyu is a private label sourced from the best wagyu farms worldwide.

The cattle are raised on pasture in Australia and then grain-fed for 400+ days.

fullblood vs crossed wagyu
FULLBLOOD VS CROSSED WAGYU
Wagyu translates to "Japanese Cow." Most Wagyu we consume is from the Japanese Black (Kuroge Washu) breed. By law, wagyu in Japan are Fullblood (100% wagyu genetics) with no cross-breeding.

Fullblood Wagyu are genetically unique to have the highest intramuscular fat (marbling) and have a low melting point of ~ 78°F, resulting in the famous melt-in-your-mouth experience.

Japan used to export live Fullblood Wagyu to the world. In 1997, though, Japan declared the Wagyu breed a living national treasure and banned exports. Today, there is a small amount of Fullblood Wagyu outside of Japan.

CROSSED WAGYU GENETICS
- higher F numbers = more wagyu DNA
- most are F1 and F4 are the rarest
Farmers achieve genetic variations by crossing Wagyu with Angus. Higher percentages of Wagyu genetics lead to higher F numbers and more Wagyu characteristics in the beef. Most Wagyu in the U.S. & Australia are F1 Crosses (50% wagyu).

WAGYU DIET INFLUENCES BEEF FLAVOR
- Grain Diet: mild beef flavor
- Grain & Grass Diet: medium beefiness
- Grass Diet: strong beef flavor
Many Australian Wagyu farms allow their cattle to graze on grass, creating a deeper beef flavor profile similar to dry-aged meats. Most American Wagyu farms follow Japanese-style grain feeding, producing a milder flavor profile.

MARBLING & TEXTURES
Crossing wagyu is a hard science, and there's a wide variance in quality from different farms. Marble scores range from USDA choice to slightly leaner than A5. We scour the world to find the best quality of wagyu in each category.

Generally, Australian Wagyu programs typically marble out better than American Wagyu, but some exceptions exist. Beef marble scores (BMS) measure the amount of intramuscular fat. Higher BMS scores are fattier, and lower BMS scores are more balanced in steak texture. The highest BMS scores will be slightly leaner than the melt-in-your-mouth A5 Japanese Wagyu.

WAGYU BRANDS
Like wine, each brand/region of Wagyu will be distinct from the others. Farms will differ in genetics, animal husbandry, environment, and diet. Learn the differences by tasting wagyu from different farms across the world.

Use the same cooking methods as non-wagyu tomahawk steaks - best served medium rare.

Although not required, the reverse-sear method is recommended for thick steaks over 1.5 inches. This simple technique takes extra time, but is the best way to cook a steak by reducing moisture loss.

Traditional Method
1. sear with high heat first
2. finish with lower heat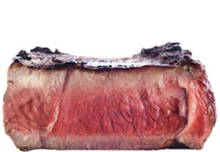 moisture loss & overcooked edges

Reverse-Sear Method
1. low and slow heat over time
2. sear at the end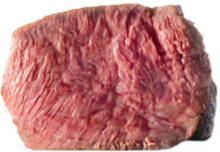 juiciest steak & even cooking

Reverse-sear is a simple 2-part cooking technique.

STEP 1
Slow cook at a low temperature until the steak reaches your desired pre-sear temperature (usually a few degrees below your final cooking temperature).
how: sous-vide, smoking, convention mode in your home oven, air-fryer, grill, and any form of low heat.

STEP 2
Pat down the exterior completely dry with paper towels. Sear all sides with high heat to form an even and brown crust.
how: cast iron with a smoking hot pan, direct fire over a charcoal grill, and any form of direct heat.

There are many ways you can reverse-sear. Sous-vide is the easiest because you can keep the steak in the water bath for an extended period of time while your guests come.

If you don't use a sous-vide, you will need a meat thermometer.

REVERSE-SEAR WITH SOUS VIDE
REVERSE-SEAR IN YOUR OVEN
REVERSE-SEAR IN YOUR SMOKER