Wagyu Picanha is a highly prized and luxurious cut of beef that combines the exquisite tenderness and rich marbling of Wagyu beef with the distinctive flavors of Picanha, a popular Brazilian barbecue staple. This cut is often regarded as one of the finest and most flavorful pieces of beef available, making it a true indulgence for meat enthusiasts.

Versatile Cooking
• thin/thick steaks to your desired thickness
• as a whole roast alternative to prime rib and roasts
• thin slices for kbbq, yakiniku, and grilling

ribeye lovers who want a lower price tag

leaner BMS 6/7, available here

thin/thick steaks, whole roast, and more

• Includes: 1 whole cap

• Cut: Picanha aka coulotte, rump cap, & top sirloin cap

• Thickness: Comes as a whole piece - cut to desired thickness

• Type: Mixture of F4, F3, F2, & F1 Wagyu Cross

• BMS: Beef Marble Score 8+ (Kerwee's highest grade = Kiwami)

• Brand: Kerwee/Kiwami, Australia

• Available for delivery in the Bay Area only. Overnight shipping not available.

Australia's Most Awarded Beef Brand
• Kiwami is Kerwee's highest grade for marbling scores over 8+.
• Kerwee cattle are raised in the pristine pastures of Australia, prized for exceptional succulence and tender beef.
• Fed a natural white-grain ration for over 400 days, creating sweet, nutty, and buttery flavors.

Tasting Notes
• Kiwami has a milder beef flavor than other Australian brands, which can be very beefy (like dry-aged or grass-fed beef).
• Japanese-style grain feeding leads to an incredible marbling-to-price ratio.

Kerwee Beef Known for its wonderfully succulent and tender beef, Kerwee beef is raised in the pristine pastures of Australia. Fed a natural white-grain ration for over 400 days, resulting in sweet, nutty and buttery flavors.

Highlights
• Family farming since 1965
• Vertically integrated from farm to processing to ensure product consistency
• Special diet of Australian white grains, fed for a minimum of 400 days
• 100% natural feeding program free from antibiotics and GMO-ingredients
• Never use hormone growth promotants
• Independently graded by AUS-MEAT to MSA standards

Our labels
We have four labels: Gold, Red, Silver and kiwami. Each label has different marbling scores based on your preferences.

Kerwee Gold Angus | Average marble score 3
Kerwee Red Wagyu | Marble score 4-5
Kerwee Silver Wagyu | Marble score 6-7
Kiwami Wagyu | Marble score 8+

FULLBLOOD VS CROSSED WAGYU
FULLBLOOD VS CROSSED WAGYU
Wagyu translates to "Japanese Cow." Most Wagyu we consume is from the Japanese Black (Kuroge Washu) breed. By law, wagyu in Japan are Fullblood (100% wagyu genetics) with no cross-breeding.

Fullblood Wagyu are genetically unique to have the highest intramuscular fat (marbling) and have a low melting point of ~ 78°F, resulting in the famous melt-in-your-mouth experience.

Japan used to export live Fullblood Wagyu to the world. In 1997, though, Japan declared the Wagyu breed a living national treasure and banned exports. Today, there is a small amount of Fullblood Wagyu outside of Japan.

CROSSED WAGYU GENETICS
- higher F numbers = more wagyu DNA
- most are F1 and F4 are the rarest
Farmers achieve genetic variations by crossing Wagyu with Angus. Higher percentages of Wagyu genetics lead to higher F numbers and more Wagyu characteristics in the beef. Most Wagyu in the U.S. & Australia are F1 Crosses (50% wagyu).

WAGYU DIET INFLUENCES BEEF FLAVOR
- Grain Diet: mild beef flavor
- Grain & Grass Diet: medium beefiness
- Grass Diet: strong beef flavor
Many Australian Wagyu farms allow their cattle to graze on grass, creating a deeper beef flavor profile similar to dry-aged meats. Most American Wagyu farms follow Japanese-style grain feeding, producing a milder flavor profile.

MARBLING & TEXTURES
Crossing wagyu is a hard science, and there's a wide variance in quality from different farms. Marble scores range from USDA choice to slightly leaner than A5. We scour the world to find the best quality of wagyu in each category.

Generally, Australian Wagyu programs typically marble out better than American Wagyu, but some exceptions exist. Beef marble scores (BMS) measure the amount of intramuscular fat. Higher BMS scores are fattier, and lower BMS scores are more balanced in steak texture. The highest BMS scores will be slightly leaner than the melt-in-your-mouth A5 Japanese Wagyu.

WAGYU BRANDS
Like wine, each brand/region of Wagyu will be distinct from the others. Farms will differ in genetics, animal husbandry, environment, and diet. Learn the differences by tasting wagyu from different farms across the world.

"Holy s**** that's good" after she tried our wagyu picanha for the first time.

Fast forward to 3:30 to see the cutting and cooking.

Method: Pan-Sear or Grill

Use the same cooking methods as USDA prime steaks and aim for medium or medium-well.
Non-wagyu steaks are harder to cook because they dry out when you cook them beyond medium rare. Highly marbled wagyu becomes better at a higher temperature. We recommend medium to medium-well on picanha because the fat renders down, creating a similar experience to our melt-in-your-mouth A5 Japanese wagyu. Rare will be chewy and medium-rare pieces will be slightly chewier.

Trimming & Cutting Instructions
• leave the thick top fat cap on
• trim the thin lay of silver skin off underneath (helps to cut this off after you cut your steaks)
• Cut the steaks to your desired thickness with the grain (with the pointy end facing north, cut your steaks horizontally).
• Watch the youtube video for reference.

THAWING, PREP, & COOKING TIPS
Thawing
• If your picanha is frozen, safely thaw the whole picanha in the refrigerator for 3-4 days before cooking.
• Allow the steaks to come up to room temperature right before cooking.
• Follow safe handling instructions when preparing food.

Seasoning
• Add a light coat of salt before cooking.
• Optional: base with butter and garlic.
• Best: if you have A5 wagyu, brush the leftover fat in the pan after cooking over your other steaks for a velvety mouthfeel.

Ideal Serving Temperature
• Medium | 140°-150° after resting or
• Medium-Well | 150°-155° after resting

Tips
• Steaks will continue to cook as you take them off the heat.
• You can always re-cook the steak in the pan if it's too rare after cutting.
• Rest your steaks for 10-15 minutes after cooking, so the juices don't flow out while cutting.

Learn how to tell if a steak is done cooking with the finger test in the video above.

Although not required, the reverse-sear method is recommended for thick steaks over 1.5 inches. This simple technique takes extra time, but is the best way to cook a steak by reducing moisture loss.

Traditional Method
1. sear with high heat first
2. finish with lower heat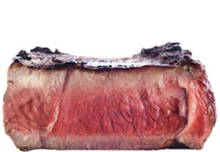 moisture loss & overcooked edges

Reverse-Sear Method
1. low and slow heat over time
2. sear at the end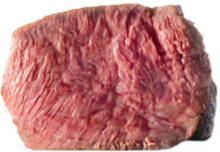 juiciest steak & even cooking

Reverse-sear is a simple 2-part cooking technique.

STEP 1
Slow cook at a low temperature until the steak reaches your desired pre-sear temperature (usually a few degrees below your final cooking temperature).
how: sous-vide, smoking, convention mode in your home oven, air-fryer, grill, and any form of low heat.

STEP 2
Pat down the exterior completely dry with paper towels. Sear all sides with high heat to form an even and brown crust.
how: cast iron with a smoking hot pan, direct fire over a charcoal grill, and any form of direct heat.

There are many ways you can reverse-sear. Sous-vide is the easiest because you can keep the steak in the water bath for an extended period of time while your guests come.

If you don't use a sous-vide, you will need a meat thermometer.

REVERSE-SEAR WITH SOUS VIDE
REVERSE-SEAR IN YOUR OVEN
REVERSE-SEAR IN YOUR SMOKER